New: Fill out the application for work exchange! Early application highly encouraged. You must apply and be confirmed for a work exchange position before registering for camp.
Balkanalia depends on many hands to pull off a smooth and fun experience for all. If you're willing and able to pitch in, we are looking for the following helpers, in exchange for half-priced tuition:
Floor Crew
This team assembles the dance floor on Friday before camp starts and takes it apart on Monday morning. (The floor components live in a storage container at Camp Angelos.) Crew members are the first to arrive at camp and need to disassemble the floor before we need to leave camp at 11 AM on Monday. Strong knees and backs are a prerequisite, as well as some carpentry experience.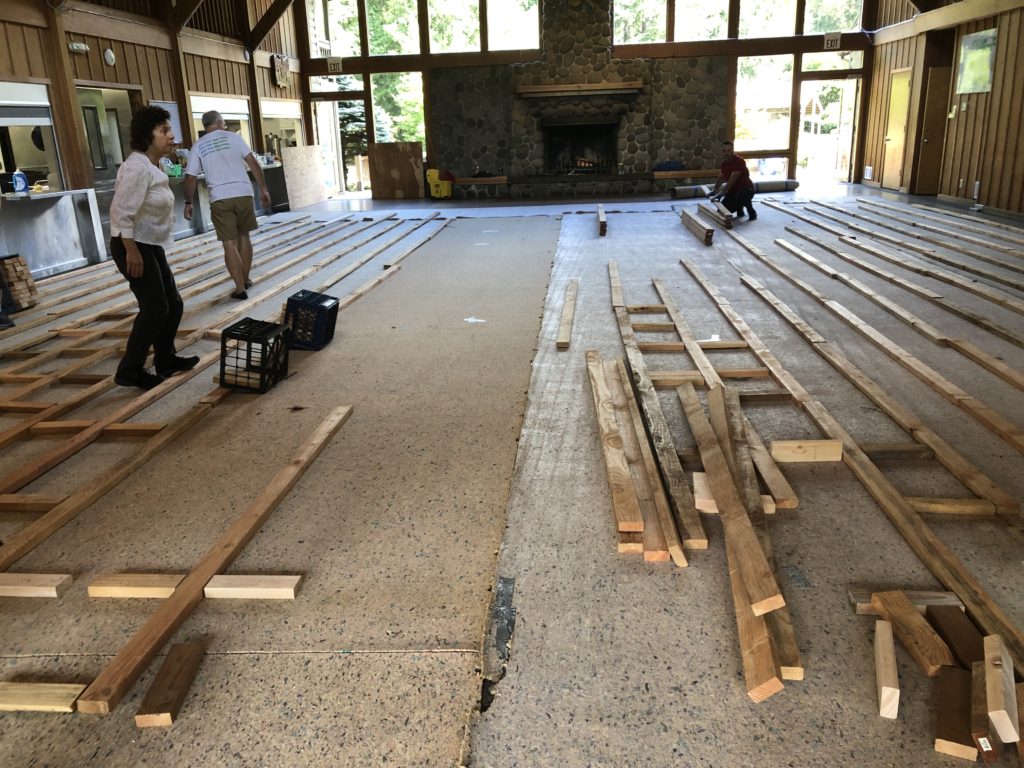 ---
Dish Crew
Campers like to eat! And someone has to clean up after them! The intrepid dish crew keeps the kitchen clean and running by, well, doing the dishes. The industrial-strength dish sanitizer is there to help, and everyone loves using the sprayer. Dish crew members work three hours a day, divided over the three meal times, and one evening party shift. Best part: You get to cut to the front of the food line. And shifts are timed that you'll miss minimal class time.
---
Kafana Crew
The Kafana Crew works in the Kafana (surprise!), making Italian sodas and other refreshments during evening parties (no alcohol will be served), and also making smoothies on the back deck during happy hour. Crew members must arrive early at camp to set up the Kafana in the dance hall (usually after the dance floor is assembled), and need to break it down again on Monday morning before 11 AM.
---
Bathroom Crew
The Bathroom Crew has the most flexible job at Balkanalia: Work on your own time and by yourself! For this crew we need two men and two women, to make sure bathrooms all over camp (yes, even the one by the river) are clean and well-stocked. Bathroom crew members must be able to stay until the end of camp to clean the bathrooms after campers have left. (Don't worry, we give everyone strict deadlines to finish up in there on Monday.)
---
---
Coffee Crew
Crucial task! Make sure coffee is available from early morning and through the afternoon. Coffee crew members divide the day up into 3- or 4-hour shifts, and during their allotted time are responsible for making coffee, as well as alerting someone on the board when supplies are running low. Early birds encouraged to apply!
---
---
How to get a job?
Fill out this application for a work exchange job. You must get confirmation from us BEFORE you register and pay.